​The Logitech G27 controller combines a wheel, shifter, and pedals to make PC and console racing simulators more immersive. The G27 is an improved version of the G25 design released in 2006. Logitech introduced the G27 in 2010 and discontinued this controller in 2015 with the release of the G920 and G29 racing wheels.
Logitech G27 Gaming Console Reviews
If you love racing simulators, you may want to invest in a racing wheel for a PC or gaming console. There are many steering wheel, shifter, and pedal controllers available on the market. You can pay as much or as little as you care to for these peripherals. Sets range in price from under 100 all the way up to 1500, but the cost of a racing wheel does not always indicate its quality.
You should not have to spend so much on a controller to make all your favorite driving simulators much more immersive. Find out why many users prefer the Logitech G27 almost 10 years after the introduction of this racing wheel.
The G27 steering wheel has an 11-inch diameter and provides up to 900 degrees of rotation, just like a car steering wheel. The G27 wheel has little or no free play, even after extensive use. A leather-wrapped rim makes this racing wheel more comfortable to use, and the controller features adjustable desk mount clamps that can be set to a maximum of two inches for stable operation.
This wheel features six unmarked red buttons that users can configure to any control scheme. You will need to map the Logitech G27 wheel to the controls of each simulator. The fact that there are no distinguishing markings on any of the buttons on the wheel or shifter may add to the difficulty of mapping controls. The wheel of the G27 also features F1-style paddle shifters that allow users to shift gears with their hands on the wheel.
To make the most of all the features of this racing wheel, the racing simulator software you are playing with must have support for the 10 LED lights found on the plastic fairing at the top of the wheel hub. These indicators range from green and amber to red and show players relative engine revolutions per minute as well as the achievement of desired shift points in the power curve.
Some users find that this steering wheel controller goes off-center during driving sessions. A few have reported that this issue causes simulated vehicles to veer left or right. This problem may become so pronounced that a user must turn the wheel up to 90 degrees to either the left or the right to drive in a straight line. The most common cause of steering issues with the Logitech G27 involves the calibration of a gear on the motor.
A slotted disc component is not keyed to the servo shaft, and the manufacturer relies on an interference fit to keep this important component in the proper position. This slotted disc frequently becomes cracked or works loose over time. Many users have reported this issue to Logitech and received replacement controllers.
These issues have recurred on some replacement units, but are not common complaints with the next-generation G29 and G290 racing wheels launched in 2015. Other complaints with regard to a dead zone in the G27 steering wheel may be resolved by increasing the controller sensitivity level.
The Logitech G27 has a six-speed shifter with a push-down reverse gear that makes driving a vehicle with a manual transmission in any simulator more realistic. The G27 shifter features a steel rod topped with a leather boot. The base of the shifter feels solid, and the stick is easy to maneuver. Most users remark that this shifter provides smooth access to all the gears.
The shifter console also has four black buttons that correspond to the buttons on a conventional video game console controller as well as a directional pad. Between the stick and the paddle shifters on the wheel, the G27 enables users to choose the right gear for any driving situation. Some users have found that quick shifts between gears sometimes fail to register. They recommend slowly pressing the clutch to ensure that you shift to the desired gear.
A loose connection within the Logitech G27 shifter can cause this controller to become unresponsive. Users must contact Logitech customer service, or they may risk voiding a three-year manufacturer's limited warranty on the controller by opening the shifter unit to fix this problem. A plastic collar inside the shifter book may also slip down the shaft and lock the shifter into a certain gear. This collar can be removed to restore functionality without causing any major issues, but these problems may prove frustrating to those who do not want to risk voiding the warranty on this controller.
Steel gas, brake, and clutch pedals allow users to throttle, brake, and shift gears. The pedals on this racing controller have a different geometry than the pedal faces on the previous G25 controller, but they are not adjustable. Some users claim that the pedals are grouped too closely together for ease of use.
Opinions on Logitech G27 pedal feel and design vary from user to user. Several remark that the brake pedal feels too firm. Others complain that the controller may repeatedly fail to recognize that a user has depressed the clutch pedal. Proper pedal calibration may help to resolve some of these issues, but many simulation drivers are disappointed when they must stop driving to repeatedly recalibrate the pedals or other interfaces on this controller.
All the G27 control interfaces are integrated into one USB input rather than being separately connected. Some users do not appreciate this lack of customizability and prefer the separate plugs found on some other models or brands of racing wheel controllers. Others point out that the placement of connections and routing of wires close to the mating surface causes wiring to fray or become smashed over time.
The Logitech G27 shares many of these issues with its predecessor, the G25, which Logitech released in 2006. Most users suggest that these calibration and wiring issues are resolved in the subsequent G920 and G29 models released in 2015. You can purchase these streamlined models with just the wheel and pedals, a shifter, or a complete set with a wheel, shifter, and pedals. The separate plugs and gaming system-specific buttons make these later models popular alternatives to the G27.
Logitech G27 Force Feedback
Force feedback simulates traction loss, allowing for a more intense driving experience. This controller features a dual-motor force feedback mechanism that relies on helical gearing to simulate road feel, traction loss, and weight shift while allowing for quiet operation. The Logitech G27 is much quieter to operate than the Logitech Driving Force GT, but serious racers have identified several issues with the force feedback of the
G27 racing wheel controller that have reportedly been improved in the later G29 and G920 models.
A common objection is that the force provided by the controller is not consistent across the range of forces that racing simulator software calls for.
The G27 is known for top performance with higher forces, but has limitations when it comes to softer force feedback. Some users point out that if the software of the simulation you are playing requests approximately 15% force, the G27 provides as little as 5 percent force.
Choppy force feedback is another common issue, especially in simulators that are not native to this controller. Depending on the importance of feedback for the simulators you play and driving preferences, you may find that the G27 is a solid racing controller, or you might prefer more consistent and precise force feedback available with later models.
Taken together, the various components of the G27 controller are solid upgrades from a low-end racing controller. This affordable alternative to more expensive racing wheels has almost every feature that a racing simulator enthusiast is likely to need or want.
Compatibility
We pointed out above that the G27 was released back in 2010, prior to the current generation of video game consoles. The Logitech G27 racing wheel is native to several older games and can be made compatible with more recent titles once you map and adjust the controls. The buttons on the steering wheel and shifter are fully configurable, but some users still encounter difficulties when setting up the shifter or pedals with older simulators that have native G27 support, let alone newer games for which this controller must be fully mapped.
Out of the box, this racing wheel is compatible with PCs as well as second- and third-generation PlayStation systems.
 A universal adapter may be necessary to make this racing wheel controller compatible with newer gaming systems. Most computer gamers are satisfied with the compatibility of this controller, but some PlayStation 4 and Xbox One users still encounter difficulty using this racing wheel even with an adapter.
The later Logitech G920 controller is designed for use with the Xbox One and has buttons that correspond to layout and look of this system's controllers. The G29 features the PlayStation controller design and is compatible with the third and fourth generations of this system.
Pricing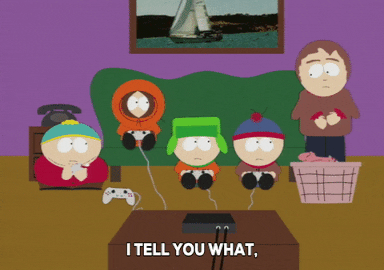 Source: Giphy
Mid-range to expensive racing controllers are made out of very high-quality materials. The most expensive controllers are intended to emulate the feel of a vehicle rather than gaming components. Most users agree that the Logitech G27 is a solid controller that does not feel cheap, yet they point out that the shifter and pedals are less solid or consistent than higher-end racing wheels.
As Logitech discontinued this model in 2015 at the time of the release of the G29 and G920 racing wheels, you may have better luck purchasing a G27 used or through an auction site. A new G27 controller may cost up to 1000 on Amazon. For this price, you are almost sure to be able to find a better controller, both in terms of the quality of the peripherals and the compatibility of the controller with more recent titles.
If you are planning to invest in racing gear, you may also want to pick up a steering wheel stand that is compatible with these models. Stand designs compatible with all these Logitech models are available. These stands allow you to set the height of the steering wheel and shifter and lock the pedals in place to approximate the layout of a vehicle. You may find that you prefer placing the shifter closer to the wheel for easy access during simulated drives. Some stands ship fully assembled, making it a breeze to attach a Logitech racing wheel, shifter, and pedals. You have the option to keep your driving set-up assembled or fold down the stand for easy storage.
What We Think About Logitech G27
If you want to take your racing simulators to the next level, the Logitech G27 is a solid wheel controller with a shifter and pedals. If you upgrade from a cheaper racing wheel without force feedback, it may take some time for you to adjust to this controller. You should eventually be able to achieve comparable, or even faster, lap and race times with this mid-range controller.  The G27 is more likely to work well with older titles and PC simulators than late-generation video game consoles.
In addition to driver compatibility with newer systems, the blank red buttons on the G27 steering wheel and black buttons on the shifter have been replaced on the newer wheels Logitech released in 2015. The G920 racing wheel has buttons that correspond to the layout and look of the Xbox One while the G29 features the PlayStation controller design. These models also resolve a number of common problems with the G27 steering wheel, shifter, and pedals.